I have long been an advocate of the Old Boy lighters, and I still am (to an extent) but having been using the Peterson lighter for nearly two weeks now, my views are changing.
The Old Boy has a design fault that I have never seen mentioned on any pipe forum. After about two years of use with my OB, I noticed that the snuffer cap wasn't coming down as flush as it used to. A couple of months later it was coming down even less, and eventually not enough to seal the gas outlet.
I went online to try and find someone that could repair it in the UK. As luck would have it, I found a repair man here in Coventry. I phoned him and asked if he repaired OB lighters, explaining my problem. He immediately replied that this was a common problem, and most OB's will fail eventually. The steel spring plate that brings the snuffer cap arm down, is harder metal than the arm - so eventually, the end of the arm "rounds off" and fails. Anyway, he repaired the lighter with a new arm and spring plate (quite cheaply). After only twelve months, the same thing is starting to happen again. I have decided to retire the lighter, and just keep it on my desk along with some other what I call "show piece" lighters (my gold toledo Don Quixote zippo included).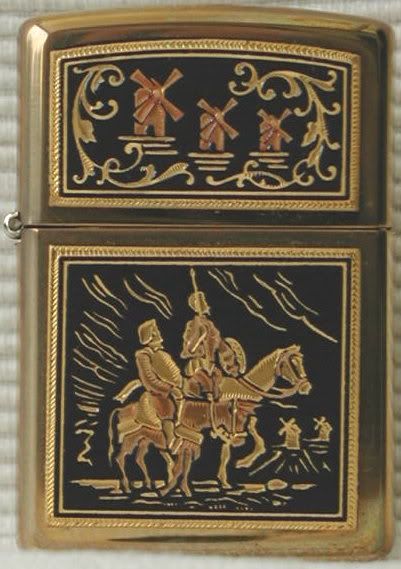 I bought the new Peterson lighter - which is very much along the lines of the OB, but without the built in tamper. The Pete lighter seems heavier, and all round quality seems better. The spring mechanism that closes the snuffer arm works in a very different way - time will tell if it has the same faults as the OB.
Another huge improvement on the OB is that I have yet to fill the Pete lighter (after two weeks). The tank must be much bigger - presumably because the exclusion of the tamper allows more room.